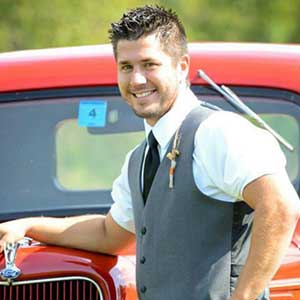 RICKY SOUTHERS
Ricky, born in Oklahoma, founded the company back in 2012 after learning the essentials working alongside Kris. Ricky served as a U.S. Marine for several years, but decided to leave the service with the announcement of the birth of his first son in 2011. Ricky and his wife Shiloh have three young children who keep them busy every free second they get. He has a degree in Business Administration that he recieved shortly, after leaving the Marines. He is a firm believer that a good business is based off of referrals and word of mouth. To accomplish this he takes advantage of networking and providing the highest level of quality and service in the industry to ensure true customer satisfaction.
KRIS THURLOW
Kris, born in Newburport, MA. Kris has been in the roofing industry for the last decade. Over the years, he fine tuned his craft giving him what it takes to be an effective Project Manager for the company. Kris is the person who makes sure everyone is where they are supposed to be and doing what they should be doing. In 2013, he joined Southers Construction full time and has been with us ever since. He is the father of two young boys.
JADE DE JONGE
Jade, born in Johannasburg, South Africa, came to the US in 2013 working for a traveling carnival. Jade is an accomplished BMX Pro whose career was put on hold after an injury at the 2012 World Champioships. Since then, he has worked in several different trades including a bathroom refinishing company. Now, Jade is the lead Sales associate for Southers Construction focusing on providing the best customized solutions for homeowners in the surrounding area. The thing he likes most about his job is how it forces him to become better every day. He is a firm believer that good things come to those who work hard. This work ethic is echoed throughout the company, nothing good comes easy.